I am linking up again this week with Casey for "What Is On Your Heart" Fridays.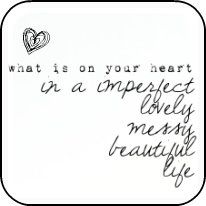 Today, the same thing is on my heart that has been on my heart every Friday and every other day of the week for the past....two years.
My heart is aching to be a mommy again. Like SERIOUSLY aching.
I feel like I write these posts all the time and end it with some motivating words about how this is the month or even just the year we will get pregnant again. Then the time comes and no one talks about it and we go another year as a family of three.
I am so lucky that my hubby is on the same page about kids. We want lots. Having Aidan changed our lives. It grew our hearts more than we ever could have imagined.
Every time we think the time is right, something changes. We loose our insurance, my parents remind us they don't think we are in the right place to have any more children, life happens and we over analyze and talk ourselves out of it.
I am tired of the everyday question "When are you going to have another one." It's painful enough to ask myself over and over in my head. I just don't know the answer to that.
So instead of putting a time frame on it, I just want to say...IT'S ON MY HEART. I'm ready. I'm not going to try to answer the question anymore. I'm letting go and leaving it to God.
"For I know the plans I have for you," declares the LORD, "plans to prosper you and not to harm you, plans to give you hope and a future"
When you make babies this cute how could you not want more! =)